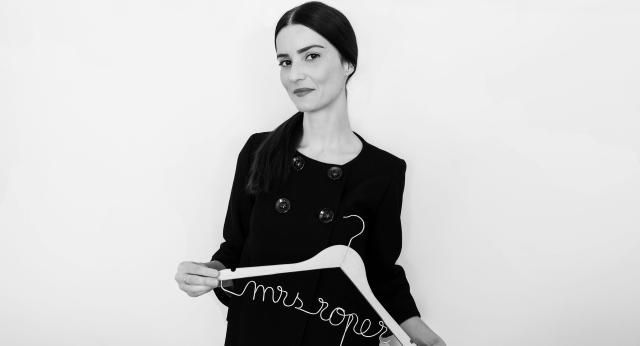 ES
Ana, fundadora y directora creativa de mrs. roper.
Lo de mrs. le viene por su estado civil, algo que a día de hoy, aún le sigue haciendo mucha gracia, ya que ella era de ese tipo de chicas que jamás, jamás se casaría. Lo de Roper, es el apellido que le regalaron el día del 'sí quiero'.
Diseñadora de moda y complementos, licenciada en Sociología, emprendedora, viajera, curiosa, soñadora inagotable, amante del arte y de la historia. Española de nacimiento y medio neozelandesa por amor. No cambia por nada del mundo, la forma de vida del mediterráneo, dónde están sus raíces y de dónde vienen sus mejores recuerdos.
Tras estar desarrollando la línea creativa de mrs roper desde el 2008, se convierte en mamá por primera vez, en el año 2012.
De repente en su armario comienza una revolución y se da cuenta de la necesidad de contar con prendas versátiles, que puedan cumplir varias funciones a lo largo del día.
Sin perder la filosofía que caracteriza a mrs. roper: prendas divertidas, alegres, coloridas y muy femeninas, adapta las líneas a estas nuevas necesidades que seguro son las necesidades de otras madres.
Es así como mrs. roper, se convierte en una marca 'mum friendly'.
____________________________________________________________________________________________________________________________________________________________
EN
Ana is the founder and the creative director of mrs. roper.
'The mrs.' in mrs. roper is obviously due to her marital status, something that even today makes her laugh, just because she was this kind of girl that never, never, never would get married. 'Roper' was the first name that was given to her as a gift on her wedding day.
She is a fashion and accesories designer, also has a bachelor's degree in Sociology. Entrepreneur, traveller, inexhaustible dreamer, art and history lover. Born spanish but half of her heart is new zealender now. She loves the mediterranean way of life where she comes from and where her best memories are.
After having developing the creative line of mrs. roper since 2008, she become a mum for the first time on 2012.
Suddenly a revolution started at her closet and she realized that she realy needed versatile clothing for her new day of life.
Without losing the mrs. roper brand philosophy: happy, funny, colourful and very femenine clothing, she adapted the shapes and the designs to these new needs that she is sure are also the needs of other mums.
That's how mrs. roper becomes a 'mum friendly' brand.