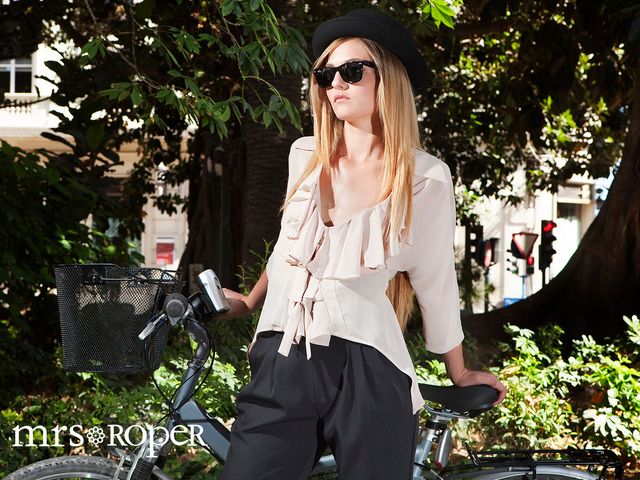 ES
Mamás del mundo mucha atención, porque mrs. roper es una marca de ropa 'Mum Friendly'.
Esto es lo que mrs. roper te puede prometer, cuando compras una de nuestras prendas 'Mum Friendly':
_ Parecerás formal, responsable y seria delante de tus jefes, aunque lleves una semana sin pegar ojo.
_ Podrás salir del trabajo y sobrevivir a una jornada de parque sin cambiarte de ropa.
_ Serás la más chic en cumpleaños infantiles, viajarás cómoda con toda la familia y por fin sabrás que ponerte, para ir a partidos de fútbol y actividades extraescolares varias.
_Podrás jugar,saltar, correr y seguir a tu peque en todo lo que se proponga, sin ni siquiera pensar en lo que llevas puesto.
Sí, nuestras prendas son 'Mum Friendly', para ello nos hemos preocupado en utilizar tejidos adaptables al movimiento, de alta calidad, resistentes a casi todo, de fácil lavado y muy importante, también de fácil planchado.
Además, para facilitarte la compra online y evitarte la latosa devolución, la mayoría de las prendas cuentan con un tallaje más universal y las costuras son de fácil arreglo, en caso de que necesites ajustar o acortar la prenda.
También hemos pensado en la etapa de la lactancia, para que te sea de lo más fácil vivir ese momento, sin perder nada de glamour, podrás encontrar #lactanciafeliz en la descripción de las prendas.
Porque sabemos lo importante que son para ti estos detalles, cuando tu vida es también, la vida de tus peques.
____________________________________________________________________________________________________________________________________________________
EN
Mums of the world, pay attention please, because mrs. roper is a 'Mum friendly' brand.
This is what mrs. roper can promise you, everytime you buy one of our 'Mum friendly' clothes:
_You will look very serious and very responsible in front of your bossess even though you are a week without sleep.
_You will be able to finish your day at the office and go straight to the park without changing your outfit.
_ You will look chic at kids birthdays, travel comfy with all the family and finally you will know exactly what to wear to see the kids playing sports.
_You will be able to play, to run, to jump and follow your little one in every single adventure, without thinking what are you wearing.
Yes, our clothes are 'Mum Friendly', that's why we have used comfy, high quality, resistant to almost everything, easy to wash and even more important easy to iron fabrics.
In order to make the online shopping experience easy for you and in order to avoid having to return anything, almost every mrs. roper clothes has a more universal size chart, and the seams are really easy to adjust or cut in case you need to.
We also have thought in the breast feeding stage, we want to make easier that moment of your life without being less glam. You can find #happybreastfeeding in the clothing description.
Because we know how important these little details are for you, when your life is also the life of your littles ones.